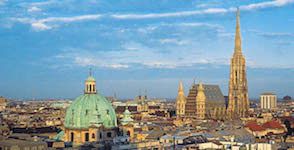 Thursday, October 8, 2015
The results of the online survey of the first three ConClip Video clips was the main topic of the 4th consortium meeting in October 2015 at the Energy Control Austria in the heart of Vienna, Austria. The feedback was very positive and additional topics were put forward, such as vapor barriers in roofs and basements, the insulation of balconies and material alternatives.
The second objective of the consortium meeting, based on the results of the online survey, was to finalize the story boards for the next ConClips. A special challenge was the different national regulations & general principles of passive house standards throughout Europe which demand a special focus on universal subjects in the ConClips.
Thirdly, the development of the ConClip teaching material, which will secure the proper implementation of the ConClips on all levels, was a high priority for all project partners, defining the Learning Outcomes and Assessment Criteria for each of the 8 videos according to ECVET (European credit system for vocational education and training) principles.